Class Descriptions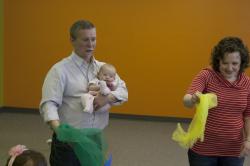 WHY... should you join a babies Music class?

All babies are born with music aptitude.
Babies absorb the sounds of music in the same way they absorb the sounds of their spoken language.
Recent studies have shown that music affects the physical, emotional, and intellectual development of babies and strengthens cognitive and sensory development.
Patterns heard in class feed the ear-brain connection and start to form the language of music. Before long they will be imitating those patterns, developing for life their sense of pitch and rhythm.
WHO joins music classes for Babies?.

Who is this for? How old does the baby have to be? This class is for any baby, at any age, up to about 16 or 18 months. Some moms have signed up for the class before the baby is born, then come back later with baby in tow!

WHAT...

What happens in a babies class? Lots of singing, dancing, rocking, steady beat, instruments, scarves, rhymes, finger plays, lullabies, and games. All designed to introduce little ones to the language of music, while at the same time equipping parents with songs and rhymes for every occasion! This class developmentally addresses your babies needs, and provides bonding moments for caregivers.

Each session includes Home Material. You will receive recorded music from the program in CD and Downloadable format, a parent handbook with all the lyrics to all the songs we sing in class (and lovely explanations of the movement we include at every class) and a cloth instrument bag that holds a set of sticks, a wooden rattle and a soft scarf for your babies exclusive use. No need to share germs!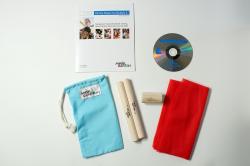 In the January - May program we use the Material from Family Music for Babies II
During the summer we use the home material for Babies Musical World

So plan to join us for music class devoted to your baby all year long!
---
Get Ready to sing, shimmy, and shake!
We will be singing, dancing, listening and playing simple instruments, while creating an environment in which the child's music aptitude is nurtured and skills are develope. This is a fun music class for the whole family.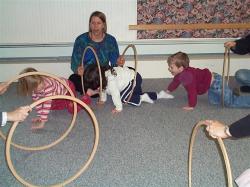 Cost of program includes classes and Home material:
music in a CD or digital Download format, and a colorful children's Sing a long Book

Instrument Kit for classroom use
​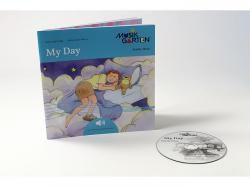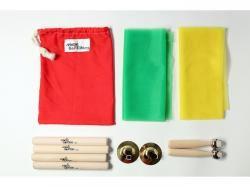 ---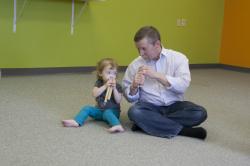 Overheard in class from a participating 3 year old, "I LOVE this class."
Your child will giggle as they sing, move imaginatively and play instruments in this weekly music program. The songs chosen for this class are simple to sing and delight the children as they expand their vocabulary. Their imaginations are busy as they are called on to think how the tadpole feels swimming through the water after breaking free from his egg. They "become" the tadpole as he gracefully moves around the pond. The children then enact the transformation and they joyfully croak and hop their way across the room. Finally, they settle down into the listening corner to listen to the recorded sounds of green frogs and bull frogs, focusing and refining their listening skills. Instruments are brought out and explored during each class.
In addition to singing, playing instruments, purposeful movement activities, and focused listening, the children are learning the language of music. In each class the children echo a series of tonal and rhythm patterns. These patterns are found in the singing repertoire, and they will be the first patterns the children will learn to read in music notation in the coming years.

The Cycle of Seasons is the right choice for both your child and you!

Home materials include a CD, a downloadable source for all the recording music, a songbook, and animal cards in a cloth bag)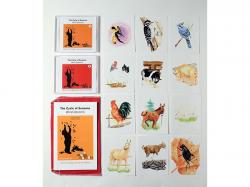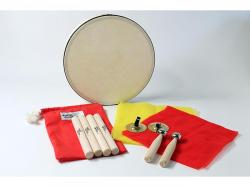 Also included is an instrument packet to make your home class shine! It includes a drum, two sets of sticks, chimes, a set of bells and two scarves. You will be ready to go!
Click here to register
---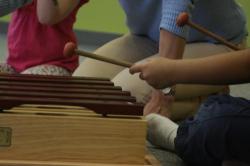 This music and movement program gives your child a solid music-making foundation in a fun music-filled environment. We focus on your child's fascination with nature and love of instruments. The program provides a developmentally sound approach to music literacy that builds symbolic thinking, concentration, memory, and self-expression, introduces orchestral instruments and ensemble play and focuses on building a child's aural (listening) foundation which leads to long-term success with voice, enhancement of self-discipline and social skills, first steps in reading music.
The program begins in September and ends in January.

The next session of Music Makers starts in February and continues for 15 sessions through May. We will continue to develop and expand the children's musical foundation in the context of exploring the animals and environments of the Marsh and Meadow. Triple Rhythm will be a big focus of this session as well as discovering tonal patterns on the music staff. We will, of course, continue with imaginative stories, dance, sing, drum and play musical instruments.
Home material for the first session includes: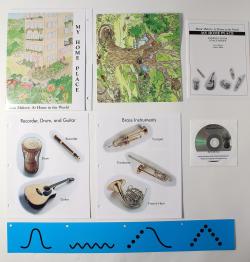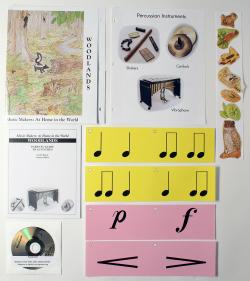 Music Makers Notebook (opional if purchased last session)

My Home Place Poster (10" x 15") and game pieces

My Home Place CD

My Home Place Parent Book

Woodlands Poster (10" x 15") and game pieces

Woodlands CD

Woodlands Parent Book

My Music Makers Album Notebook
Also included is a set of instruments for home playing including a drum, a set of sticks, bells, chimes and two scarves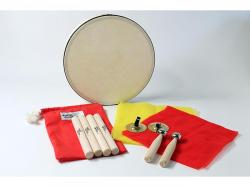 | | |
| --- | --- |
| Materials: | Included in price |
| Total: | $500 |
---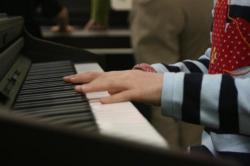 Music Makers: At the Keyboard is a comprehensive approach to learning music. Learning music comprehensively is much more than being able to name notes or being able to differentiate between quarter and half notes. Comprehensive musicianship leads a child to music literacy, or the ability to hear in one's head music that is written on the page. Conversely, the musically literate person will be able to figure how to play the melody, harmony, and rhythm of a piece s/he hears, without needing to see the written music.

Music Makers: At the Keyboard is a group method. By studying the piano in a group setting, singing games and movement activities are naturally a part of the experience. These are the very things that nurture the musician inside each child, making success at the keyboard possible. The group also allows children to learn from each other and overcome performance anxiety. Most importantly, the group setting keeps the fun in music-making.

Music Makers: At the Keyboard is an aural approach. Years of experience have shown us that children learn to read and understand musical notation only after they have a strong aural foundation in place. In Music Makers: At the Keyboard, keyboard skills are layered on at the appropriate time and at an appropriate pace, thereby allowing the aural foundation to be established and reinforced. But that doesn't mean that the children won't be playing very much. The fact is that in the first year, they will be taught to play more than 25 songs in the keys of C, D, E, F, and G Major and c, d, e, f, and g minor. Additionally, the children will be playing I, IV, and V7 chords in multiple keys with both hands!

Music Makers: At the Keyboard lays the groundwork for keyboard success! Through the variety of activities in each class the children become independent musicians. They have both a love of music and a love of a specific repertoire, both of which are major incentives for practicing. In addition to playing the keyboards, the children will be involved in drumming and dancing to nurture their rhythmic development, singing to nurture their tonal development, and echoing patterns to nurture their aural development. And composing and musical dictation activities lead the child to music literacy.

Children who complete Music Makers: At the Keyboard not only possess a strong desire to make music, they have the aural and keyboard skills that will enable them to do so. It prepares children for future piano study, as well as whatever musical adventures the future holds!

Material for Book 1 Classes: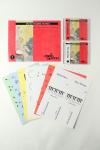 Book 1 Student book
2 CDS (a listening CD and a special Practice CD)
A notebook to hold their weekly assignments
A parent booklet that provides information to make this program more successful at home.
(new students entering the program at this level will also need a red Musikgarten Bag to help them bring their books each week)
A Musikgarten Tote Bag (included only if student is new to the Music Makers program)



We all enjoyed your program so much! What is truly amazing, is the fact that they all walked into the class

and didn't know one thing about music. And look at them now. You did an amazing job!
- comment from a happy a parent finishing book 4 of the Music Makers at the Keyboard Program
| | |
| --- | --- |
| Materials: | Includes Material |
| Total: | $625 |
---