Class Descriptions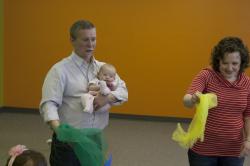 WHY... should you join a babies Music class?

All babies are born with music aptitude.
Babies absorb the sounds of music in the same way they absorb the sounds of their spoken language.
Recent studies have shown that music affects the physical, emotional, and intellectual development of babies and strengthens cognitive and sensory development.
Patterns heard in class feed the ear-brain connection and start to form the language of music. Before long they will be imitating those patterns, developing for life their sense of pitch and rhythm.
WHO joins music classes for Babies?.

Who is this for? How old does the baby have to be? This class is for any baby, at any age, up to about 16 or 18 months. Some moms have signed up for the class before the baby is born, then come back later with baby in tow!

WHAT...

What happens in a babies class? Lots of singing, dancing, rocking, steady beat, instruments, scarves, rhymes, finger plays, lullabies, and games. All designed to introduce little ones to the language of music, while at the same time equipping parents with songs and rhymes for every occasion! This class developmentally addresses your babies needs, and provides bonding moments for caregivers.

Each session includes Home Material. You will receive recorded music from the program in CD and Downloadable format, a parent handbook with all the lyrics to all the songs we sing in class (and lovely explanations of the movement we include at every class) and a cloth instrument bag that holds a set of sticks, a wooden rattle and a soft scarf for your babies exclusive use. No need to share germs!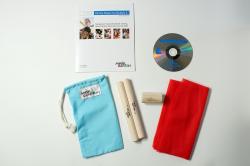 In the January - May program we use the Material from Family Music for Babies II
During the summer we use the home material for Babies Musical World

So plan to join us for music class devoted to your baby all year long!
---
35 minute weekly classes - 15 classes/session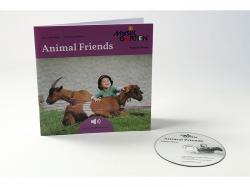 What Animal Friends have you seen?
Maybe cows, pigs, or chickens on a farm? Or dogs barking and cats roaming in your neighborhood?

Explore all of your animal friends!
Sing familiar songs like The Farmer in the Dell and The Three Little Kittens, or soon to be new favorites The Wild Horses and See the Pony
Instrumental pieces like The Carnival of the Animals will spark the imagination of your child.
Tap, dance, bounce and jump
Discover fun, new instruments and play old favorites
Parents/caregivers and children will experience the joy of making music together. Toddler movers & shakers will stay active while the adult provides the security needed for the child to explore.
Families will receive:
An outstanding Musikgarten recording of over 60 minutes for moving, singing and listening in Both CD and Downloadable Song File formats.
A 48-page children's book with colorful artwork for children and parents to follow along with as they listen or read

For New Families you will also receive a Classroom set of Instruments to be used during class. This includes two sets of sticks, Two jingles, Two scarves and a chimes all in a cloth bag.

| | |
| --- | --- |
| Total: | $360 ($337 for returning students) |
---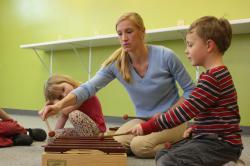 The Cycle of Seasons program is a Musical Celebration of the Year for young Children, ages 3 and 4. Research overwhelmingly shows that children learn best at this age in an environment filled with both music and movement. We include movement because children grow and develop as whole human begins in a "doing" environment. Music is a key element in this holistic program. When music, movement, and language are integrated, the benefits are incalculable both intellectually and psychologically. In this class, we will sing, play instruments, explore movement in stories, develop listening skills, dance and share music with a treasured adult. We will draw central themes from nature and celebrate the changing seasons, Fall, Winter and Spring. The program is one year long divided into two sessions of 15 classes each. Accompanying the classes is home material aimed to bring the class activities into the families home life.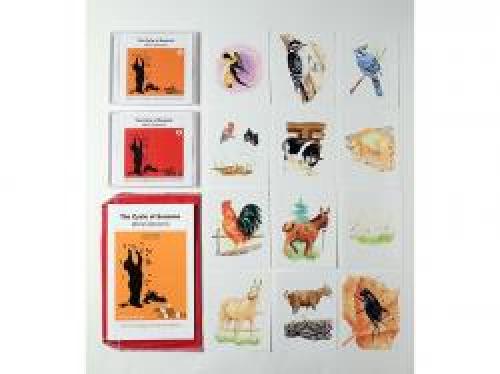 | | |
| --- | --- |
| Total: | $350 for Fifteen classes and Home Material |
---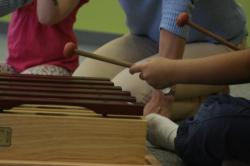 This music and movement program gives your child a solid music making foundation in a fun music filled environment. We focus on your child's fascination with nature and love of instruments. The program provides a developmentally sound approach to music literacy that builds symbolic thinking, concentration, memory and self-expression, introduces orchestral instruments and ensemble play and focuses on building a child's aural (listening) foundation which leads to long-term success with voice, enhancement of self-discipline and social skills, first steps in reading music.

Second Session: 15 weeks and Home material includes: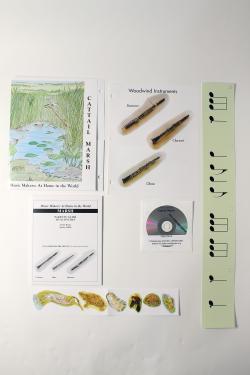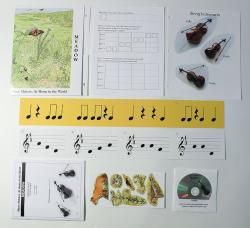 1. Marsh Poster (10" x 15") and game pieces
2. Marsh CD or downloadable recording
4. Meadows Poster (10"x 15") and game pieces
5. Meadows CD or downloadable recording
This is a sequential program so we ask all families to start in September and plan to enroll for the entire year.
| | |
| --- | --- |
| Total: | $442 for Fifteen classes and Home Material ($460 for new students) |
---